Nmédia believes that community involvement is crucial for businesses. By helping others, you make a positive impact on their lives as well as your own. There's a special joy in knowing that you are contributing to the well-being of your community.
Nmédia's active involvement in the community
Nmédia has been involved with Leucan in the fight against cancer for many years. The web agency participated in various Leucan Ski Challenges and organized team activities to engage employees in supporting Leucan's mission. Nmédia also takes part in La guignolée to support local food banks and donates as many food products as possible. But in 2020, things changed due to the pandemic.
Many businesses shut down and had to lay off employees during this period. Nmédia is fortunate to have remained stable amidst these circumstances and supported the community in every way possible during this uncertain time. The agency came up with the idea of hosting its first private online auction using Followmybid, an online fundraising platform developed by its own team. The goal? To give back to the community.
For three years now, Nmédia has supported Comptoir alimentaire Drummond in its mission to fight hunger in the Drummondville region. One of the ways Nmédia supports the Comptoir is by supplying surplus produce from its corporate garden every summer.
Let the fundraising adventure begin
In 2020, Nmédia organized a highly successful inaugural auction and raised $3,183 by auctioning 30 some-odd items. This event marked the start of an incredible fundraising journey for Nmédia. Since then, they have been hosting an online auction each year. In 2022, the third online fundraising event brought in nearly $11,000, with 170 items being auctioned off. Practice makes perfect, as is proven by Nmédia's fundraising efforts.
Results of the 2020 Auction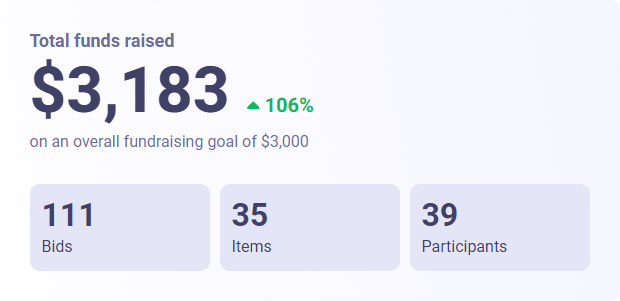 Results of the 2021 Auction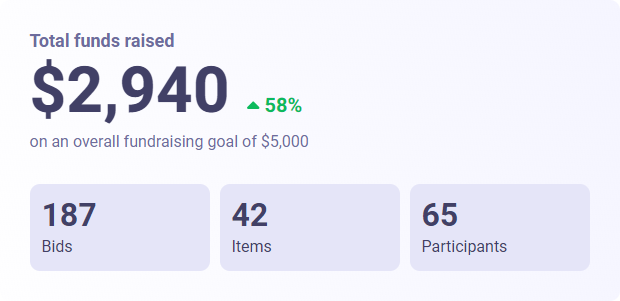 Great enthusiasm for the 2022 Nmédia auction
The third Nmédia auction was a memorable event. The web agency organized a hybrid event to involve as many team members as possible. Nmedians were eager to take part in this charitable activity. Many of them generously offered items, revealing hidden talents to their colleagues. The auction manager, was delighted to receive so many items!
In addition to donations from Nmedians, Nmédia did a big office clean-up to find extra items for the auction. They auctioned off office furniture, electronic devices, artwork, chairs, tablets, computers, yoga mats, and more. The excitement surrounding the event grew as new items were added, sparking curiosity among Nmedians. It became a fun and friendly competition, and everyone had a great time.
Results of the 2022 Auction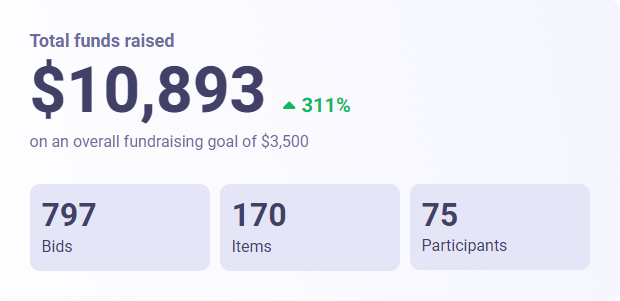 Funny anecdotes
The auction created a competitive atmosphere as people were determined to win! Some team members used impressive strategies to secure the items they wanted. One Nmedian went to great lengths to outbid Nmédia's vice president, Patrick.
Here's the story: On the auction end date, Patrick, who was giving a lecture at the Université du Québec à Trois-Rivières (UQTR), requested an overtime period to bid on items after his class. But since he is a bit of a chatterbox, his lecture ran longer than expected. Another Nmedian, who was attending the lecture, bid on all the items Patrick had bid on and ultimately won them all, to the great annoyance of our vice president.
In another funny incident, the auction manager found herself in an amusing situation. On the final day of the auction, she was determined to get a specific item. But someone else was competing against her for the same item, leading her to raise her bids continuously. After a while, she called her partner, another Nmédian, to inform him that she would lose the item if she didn't bid higher than she had planned. To her surprise, her partner was unknowingly bidding against her! In the end, they managed to secure the item they wanted but had to pay more than planned. However, they were still happy, knowing the money was going towards a good cause.
What Nmédia has to say about Followmybid
The entire Nmédia team had a great time during the auction. There was a lot of excitement when the total amount raised was displayed on the big screen, leaving Nmedians ecstatic.
Mélanie, vice president of human capital and customer service at Nmédia, tells us about her experience with the Followmybid platform:
"From our very first auction, we immediately felt the Followmybid team was there to help us. They have demos that explain the platform clearly, and their fundraising expert was there every step of the way. For our third auction, we were able to create and manage our auction on our own in less than 10 minutes!"
She also said:
"It was comforting knowing that the Followmybid technical support team would be there to assist us with any problems. The platform is incredibly user-friendly, and we raised more money with Followmybid than we had ever imagined. It's nice to receive notifications about our auction items, and being able to message other participants is also convenient. Followmybid is a well-designed, effective tool that assists non-profit organizations, businesses, and individuals in supporting their communities."
Nmédia has plans to host a 4th auction
"The 2022 Nmédia auction was a remarkable and thrilling event! We are delighted to donate $11,000 to Comptoir alimentaire Drummond. Having the right tools to engage with the community and make giving easy has been fantastic. We are already planning a 2023 edition of the Nmédia auction!" — Mélanie, Nmédia
Whether you are a non-profit organization, a company striving to reach your fundraising goals, or simply looking for a fun team-building activity, reach out to the Followmybid team. Our online auction experts will gladly guide and assist you.